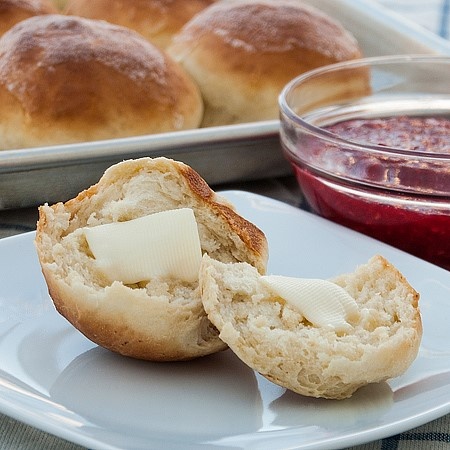 (Adapted from Realmomkitchen.com)
Ingredients
· 1 cup plus 2 Tbsp warm water
· ⅓ cup oil
· 2 Tbsp yeast
· ¼ cup sugar
· ½ tsp salt
· 1 egg
· 3½ cups flour*
Instructions
1. Preheat oven to 400 degrees.
2. In the bowl of a stand mixer, combine water, oil, yeast, and sugar. Allow mixture to rest for 15 minutes.
3. With a dough hook, mix in salt and egg and 2 of the cups flour until combined. Add remaining flour ½ cup at a time.
4. Shape dough into 12 balls and let rest for 10 minutes.
5. Place rolls in a greased 9x13 pan or baking sheet. Bake at 400 degrees for 10 minutes until tops are golden brown. Makes 1 dozen.
*Note: I used ½ white whole wheat flour and ½ all purpose flour.