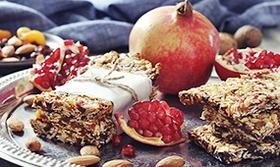 Energy Bars

If you re looking to whip up a no-sugar-added energy bar in just a few minutes that will take care of your breakfast, afternoon snack or dessert, all you need are bananas, oats, nuts and dates (salt, vanilla and a touch of cinnamon are optional). Recipe courtesy of Faith Durand, author of the recipe on The Kitchn, a web magazine devoted to home cooking and kitchen design.
INGREDIENTS
· 2
banana
· 1 tsp
pure vanilla extract
· 2 cups Oatmeal-Rolled Oats
· 1/2 tsp
Salt
· 1/4 cup
Dates, Chopped
· 1/4 cup
Walnuts - Chopped
· 1 dash Cinnamon Ground
DIRECTIONS
1. Preheat oven to 350 degrees and lightly grease a 9x9 inch-square baking dish using butter or olive oil.


2. Mash the bananas very thoroughly in a mixing bowl until they are almost liquid. No large chunks should remain (about 1 cup and 1 ¼ cup).
3. Stir in vanilla (optional). Mix in oats, then dates, nuts and salt (optional).
4. Press the mixture evenly into a 9x9-inch baking dish. Sprinkle the top lightly with nutmeg or cinnamon (optional).
5. Bake for 30 minutes in an over preheated to 350 degrees.
Read more:
http://www.livestrong.com/recipes/the-4-ingredient-energy-bar-2/#ixzz4axdF7vKu