Avocado Breakfast Pizza
2 Breakfast Pizzas
Yields: 2 Breakfast Pizzas | Serving Size: 1 Breakfast Pizza | Calories: 299 | Total Fat: 24 g | Saturated Fat: 4 g | Trans Fat: 0 g | Cholesterol: 186 mg | Sodium: 84 mg | Carbohydrates: 14 g | Dietary Fiber: 7 g | Sugars: 1 g | Protein: 9 g | SmartPoints: 9 |
Ingredients
· 2 whole grain tortillas (6 inch diameter)
· 2 eggs
· 2 tsp olive oil
· 1 avocado, peeled and seeded
· 1 tsp lemon juice
· salt and pepper, to taste
Directions
First, warm tortillas in the microwave for approximately 30 seconds. Set aside.
In a small bowl, combine the avocado and lemon juice. Mix well until the mixture has a smooth consistency. Season with salt and pepper to taste.
Spread avocado mixture in an even layer on both tortillas. Set aside.
Heat a skillet greased with the olive oil at medium heat until just hot enough to sizzle a drop of water.
Break eggs and gently add to the skillet. Immediately reduce heat to low.
Cook slowly until whites are completely set and yolks begin to thicken but are not hard.
Place warm eggs on top of the tortillas and season with salt and pepper as desired.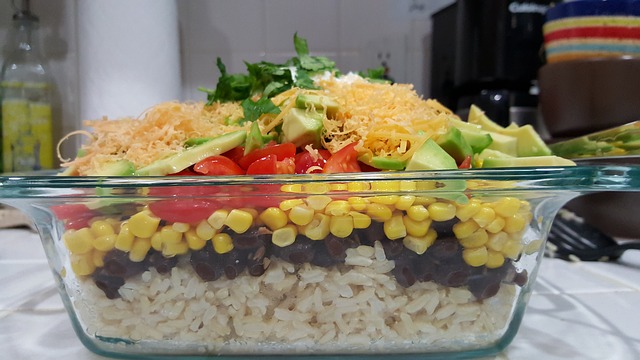 Bean Burrito Bowl
Dig into a delicious meal made with lean protein and veggies.

Prep Time: 15 minutes
Cook Time 30 minutes
Servings 4
Ingredients
1 cup brown rice
1 Tbsp olive oil
1 red onion, chopped
1 can (15 oz) black beans, low sodium, drained and rinsed
1 can kidney beans, low sodium, drained and rinsed
½ tsp chili powder
2 cups shredded lettuce
1 cup diced tomatoes
1 cup cooked corn
1 cup shredded low-fat cheddar or Monterrey Jack cheese
4 Tbsp non-fat Greek yogurt
Directions
1. Cook rice according to package directions. Set aside
2. Heat oil in skillet over medium heat. Add onion and cook 1 minute. Add black beans, kidney beans, chili powder, and 1/3 cup water. Cook stirring, until beans come to a boil, about 3 to 5 minutes. Lower heat and simmer beans until water evaporates. Remove skillet form heat.
3. To assemble bowls: Divide rice among four bowls. Add a layer of lettuce and then a layer of beans. Top with tomatoes, corn, cheese, and dollop of yogurt.
4. Other topping options: avocado slices, scallions, jalapeno slices, bell peppers, salsa.
Nutrition Information
| | |
| --- | --- |
| Serving Size (Amount per serving) | Measurement |
| | |
| Calories | 440 |
| Fat | 8 g |
| Saturated fat | 3 g |
| Carbs | 75g |
| Cholesterol | 7 mg |
| Fiber | 18 g |
| Protein | 25 g |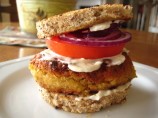 Chickpea Burger

(By Chouny - Photo by Chouny)
Prep Time: 10 mins
Total Time: 25 mins
Servings: 8
About This Recipe
"This burger is so delicious, you will not miss the meat, promise! Here's a tip: If you don't want this patties to fall apart, you absolutely need to make a rough chop while processing, also try making thinner patties."
Ingredients

1 carrot ( medium size grated)

1 garlic clove

1 (19 ounce) cans chickpeas

1 1/2 teaspoons ground cumin

1 1/2 teaspoons ground coriander

salt & pepper

1 large egg

2 tablespoons plain flour

oil ( for frying)

2 slices whole wheat bread ( cut in round shapes)

1 tomatoes

1 red onion
Directions
Peel the carrots, grate them coarsely and set them aside.Peel and roughly chop the garlic.Drain and rinse the chickpeas and put them into a food processor with the garlic, ground spices, salt and pepper. Slightly process to obtain a rough paste then add the carrot, egg, and flour and process briefly until evenly mixed but slightly rugged.
Heat the oil in a frying pan and divide the mixture into 8. Fry in batches for 2–3 minutes on each side, until golden, then drain on kitchen paper. Keep opened chickpea can to cut round shapes in bread slices. Toast each slice in toaster or in frying pan. Serve with slices of tomato and red onions and mayonnaise.
Nutrition Facts - Serving Size: 1 (120 g) - Servings Per Recipe: 8
| | |
| --- | --- |
| Amount Per Serving | % Daily Value |
| Calories 127.6 | |
| Calories from Fat 16 | 13% |
| Amount Per Serving | % Daily Value |
| Total Fat 1.8g | 2% |
| Saturated Fat 0.3g | 1% |
| Cholesterol 23.2mg | 7% |
| Sugars 1.7 g | Sodium 250.7mg |
| 10% | Total Carbohydrate 22.6g |
| 7% | Dietary Fiber 4.3g |
| 17% | Sugars 1.7 g |
| 7% | Protein 5.7g |
| 11% | |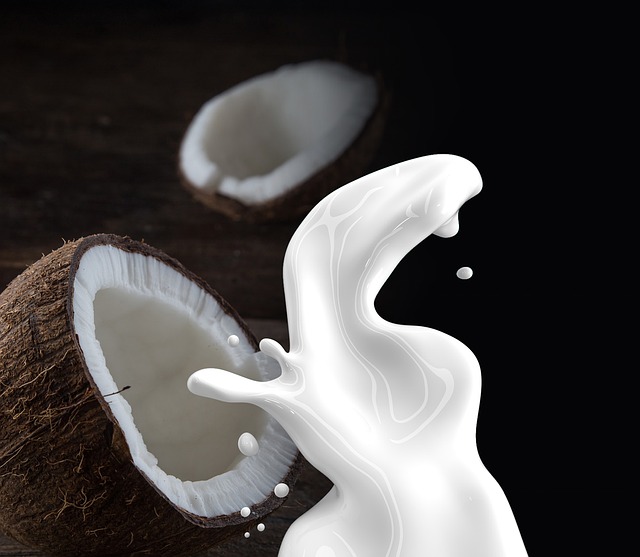 5 Ingredient Coconut Curry
by: Pinch of Yum
Prep: 5 mins. Cook: 10 mins. Total: 15 mins.
Yield: 3-4 servings
Ingredients:
1 can coconut milk
2 tablespoons red curry paste
2 small heads broccoli (and/or other veggies of choice)
1 can chickpeas, rinsed and drained
½ tablespoon cornstarch dissolved in 2 tablespoons cold water
Optional: minced garlic or onion
Directions:
Sauté broccoli (and onion/garlic if you're using it) in a tablespoon of oil. After a few minutes, add the coconut milk and let simmer for 5-8 minutes. The broccoli should soften but still be tender-crisp.
Add the curry paste to the pan and whisk it until it combines with the coconut milk. Add the chickpeas.
Bring to a slight boil and add the cornstarch. Boil for about a minute, then reduce heat and let cool slightly. Sauce will thicken as the mixture cools.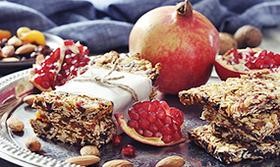 Energy Bars

If you re looking to whip up a no-sugar-added energy bar in just a few minutes that will take care of your breakfast, afternoon snack or dessert, all you need are bananas, oats, nuts and dates (salt, vanilla and a touch of cinnamon are optional). Recipe courtesy of Faith Durand, author of the recipe on The Kitchn, a web magazine devoted to home cooking and kitchen design.
INGREDIENTS
· 2
banana
· 1 tsp
pure vanilla extract
· 2 cups Oatmeal-Rolled Oats
· 1/2 tsp
Salt
· 1/4 cup
Dates, Chopped
· 1/4 cup
Walnuts - Chopped
· 1 dash Cinnamon Ground
DIRECTIONS
1. Preheat oven to 350 degrees and lightly grease a 9x9 inch-square baking dish using butter or olive oil.

2. Mash the bananas very thoroughly in a mixing bowl until they are almost liquid. No large chunks should remain (about 1 cup and 1 ¼ cup).

3. Stir in vanilla (optional). Mix in oats, then dates, nuts and salt (optional).

4. Press the mixture evenly into a 9x9-inch baking dish. Sprinkle the top lightly with nutmeg or cinnamon (optional).

5. Bake for 30 minutes in an over preheated to 350 degrees.

Read more:
http://www.livestrong.com/recipes/the-4-ingredient-energy-bar-2/#ixzz4axdF7vKu
Overnight Oats

From "Vegetarian Cookbook for Beginners"
Strawberry Banana Overnight Oats
SERVES 4 TO 6
SERVING SIZE = ABOUT ¼ CUP
These strawberry banana overnight oats are perfect for a quick breakfast. Simply
combine the ingredients the night before and then store in the refrigerator and serve in the morning.
INGREDIENTS
2 CUPS ROLLED OATS
2 CUPS UNSWEETENED ALMOND MILK
¼ CUP PURE MAPLE SYRUP
E2 SMALL BANANAS, PEELED AND SLICED
1 ¼ CUPS FRESH STRAWBERRIES, CHOPPED
½ CUP CHOPPED PECANS
2 TABLESPOONS GROUND FLAXSEED
1TEASPOON GROUND CINNAMON
1 TEASPOON ALMOND EXTRACT
PINCH OF SALT
Combine all of the ingredients in a large mixing bowl and stir well. Spoon the mixture into a casserole dish, cover with plastic and refrigerate overnight. Spoon into bowls in the morning and serve cold, topped with granola if desired.
Pecan Meatballs
1 cup Pecan Meal
2 cups Pepperidge farm herb stuffing mix
1 bar Philadelphia cream cheese 8oz
4 eggs
1 cup chopped onions
2 tsps sage
1 stick butter or margarine

a little black pepper
SAUCE - Can be bottled spaghetti or make your own sweet and sour, barbecue sauce.
Cream together eggs, cream cheese and melted butter or margarine.
Add the seasonings and other ingredients and mix
Let stand for 5 minutes. Shape into meatballs and place in oven on a greased cookie sheet. Batter should make about 30 meatballs depends on what size you make them. Bake at 350degrees for 30 minutes turning on each side
Remove from oven and place in an ovenware dish. Pour sauce over them
Serve with rice or spaghetti.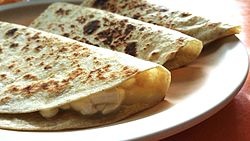 Sweet Potato and Bean Quesadillas Recipe
From Brittany Hubbard, Taste of Home
Ingredients:
2 medium sweet potatoes
4 whole wheat tortillas (8 inches)
¾ cup canned black beans, rinsed and drained
½ cup shredded pepper jack cheese
¾ cup salsa
Directions:
1. Scrub sweet potatoes; pierce several times with a fork. Place on a microwave-safe plate. Microwave, uncovered, on high 7-9 minutes or until very tender, turning once.
2. When cool enough to handle, cut each potato lengthwise in half. Scoop out pulp. Spread onto one half of each tortilla; top with beans and cheese. Fold other half of tortilla over filling.
3. Heat a griddle or skillet over medium heat. Cook quesadillas 2-3 minutes on each side or until golden brown and cheese is melted. Serve with salsa.
Yield: 4 servings
Rice and Bean Tostados or Tacos
Prepare instant brown rice with chopped onion

Once that is simmering, add a can of red beans in chili sauce
Stir that, then add a can of corn (drained)
Mix it together and heat
Then serve it as tacos or over heated flat tortillas w/ lettuce
You can use cheese, but may find it flavorful enough to omit the cheese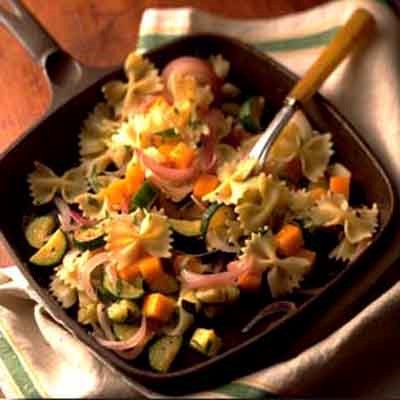 Veggie Skillet

(from land O Lakes®)
20 MIN - PREP TIME; 30 MIN - TOTAL TIME; 5 SERVINGS
2 cups uncooked dried farfalle (bow tie) pasta
2 tablespoons Land O Lakes® Butter
1 teaspoon finely chopped fresh garlic
2 medium (1 cup) zucchini, cut into 1/2-inch pieces
1 medium (1 cup) red onion, cut into thin wedges
1 tablespoon chopped fresh basil leaves*
8 ounces (2 cups) Cheddar cheese, cubed 1/2-inch)
Salt, if desired
Pepper, if desired
*Substitute 1 teaspoon dried basil leaves
1. Cook pasta according to package directions. Drain.
2. Melt butter in 10-inch skillet until sizzling; stir in garlic. Stir in all remaining ingredients except cheese. Cook over medium heat, stirring occasionally, 4-6 minutes or until vegetables are crisply tender.
3. Stir in pasta. Continue cooking, stirring occasionally, 2-3 minutes or until heated through. Stir in cheese. Salt and pepper to taste.
Angela's suggestions
Try using a smaller amount of olive oil, rather than butter. Also, consider using a very sharp cheddar and reducing the overall amount of cheese.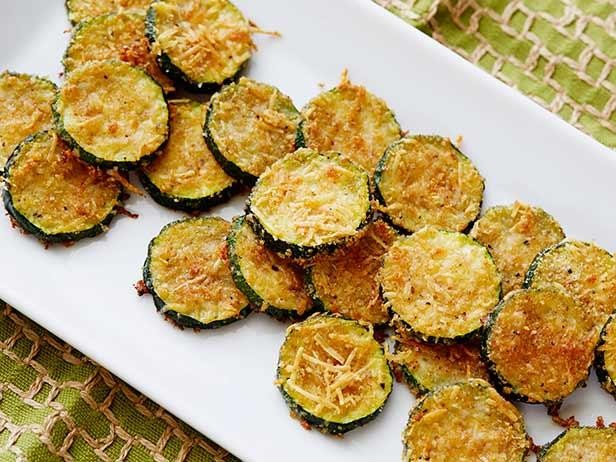 Zucchini Parmesan Crisps by Ellie Krieger
Total: 50 min
Active: 20 min
Yield: 4 servings, serving size 1/2 cup
Level: Easy
Ingredients

· Cooking spray
· 2 medium zucchini (about 1 pound total)
· 1 tablespoon olive oil
· 1/4 cup freshly grated Parmesan (3/4-ounce)
· 1/4 cup plain dry bread crumbs
· 1/8 teaspoon salt
· Freshly ground black pepper
Directions
Preheat the oven to 450 degrees F. Coat a baking sheet with cooking spray.
Slice the zucchini into 1/4-inch thick rounds. In a medium bowl, toss the zucchini with the oil. In a small bowl, combine the Parmesan, bread crumbs, salt, and a few turns of pepper. Dip each round into the Parmesan mixture, coating it evenly on both sides, pressing the coating on to stick, and place in a single layer on the prepared baking sheet.
Bake the zucchini rounds until browned and crisp, 25 to 30 minutes. Remove with spatula. Serve.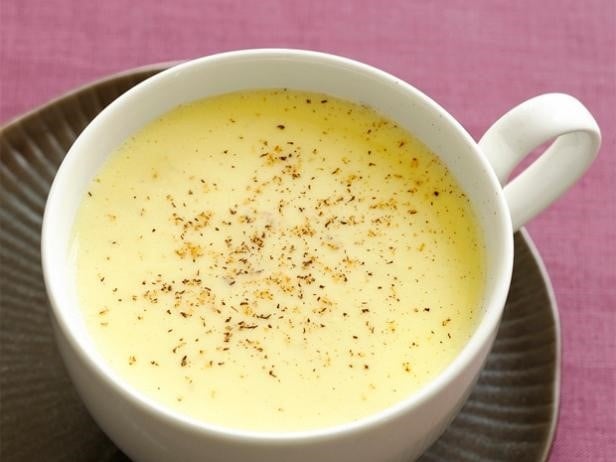 Egg Nog
Ingredients
· 2 cups nonfat milk
· 2 large strips orange and/or lemon zest
· 1 vanilla bean
· 2 large eggs plus 1 egg yolk
· 1/3 cup sugar
· 1 teaspoon cornstarch
· Freshly grated nutmeg, for garnish
Directions
Combine 1 1/2 cups milk and the citrus zest in a medium saucepan. Split the vanilla bean lengthwise and scrape out the seeds; add the seeds and pod to the saucepan and bring to a simmer over medium heat. Meanwhile, whisk the eggs, egg yolk, sugar and cornstarch in a medium bowl until light yellow.
Gradually pour the hot milk mixture into the egg mixture, whisking constantly, then pour back into the pan. Place over medium heat and stir constantly with a wooden spoon in a figure-eight motion until the eggnog begins to thicken, about 8 minutes. Remove from the heat and immediately stir in the remaining 1/2 cup milk to stop the cooking. Transfer the eggnog to a large bowl and place over a larger bowl of ice to cool, then chill until ready to serve.
Remove the zest and vanilla pod. Garnish with nutmeg.
Photograph by Yunhee Kim
Recipe courtesy Food Network Magazine
*Note: I used 1% Organic Valley lactose free milk and 2 strips of orange zest.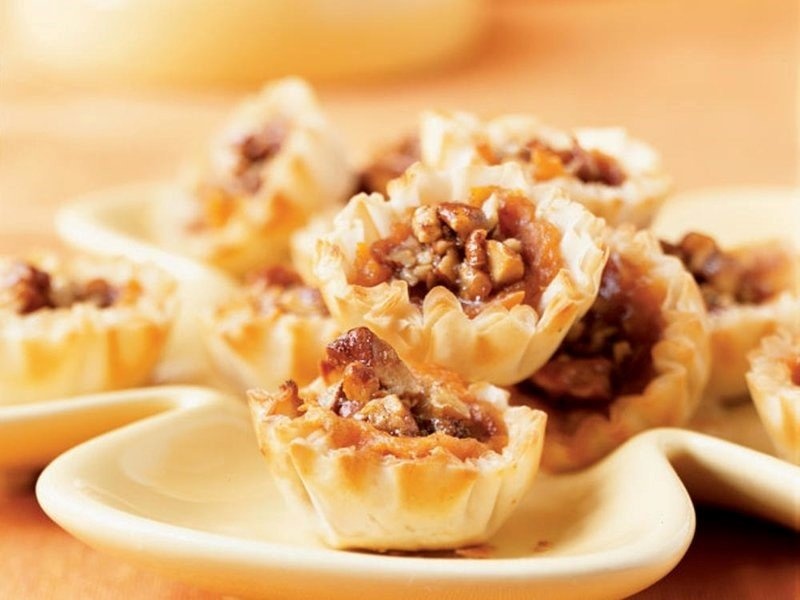 Tarts
15 servings (serving size: 2 tarts)
ELIZABETH TALIAFERRO
November 2005
RECIPE BY
COOKING LIGHT
Pierce each sweet potato a few times with a fork, place in a pie plate with two tablespoons water, cover loosely with wax paper, and microwave at high five minutes or until tender.
Ingredients
1 cup mashed cooked sweet potato
3 tablespoons granulated sugar
1/4 teaspoon ground cinnamon
1/3 cup chopped toasted pecans
1/4 cup firmly packed brown sugar
1 tablespoon dark corn syrup
1/2 teaspoon vanilla extract
2 (2.1-ounce) packages mini phyllo shells (such as Athens)
Nutritional Information
· Calories 89
· Calories from fat 39%
· Fat 3.9g
· Sat fat 0.2g
· Mono fat 2.2g
· Poly fat 0.9g
· Protein 0.6g
· Carbohydrate 13.1g
· Fiber 0.5g
· Cholesterol 0.0mg
· Iron 0.6mg
· Sodium 55mg
· Calcium 9mg
How to Make It
Step 1
Preheat oven to 350°.
Step 2
Combine sweet potato, granulated sugar, cinnamon, and salt, stirring well.
Step 3
Combine pecans, brown sugar, syrup, vanilla, and egg white, stirring well.
Step 4
Spoon about 1 teaspoon sweet potato mixture into each phyllo shell, spreading to edges. Spoon about 1/2 teaspoon pecan mixture over sweet potato mixture. Place filled shells on an ungreased baking sheet. Bake at 350° for 20 minutes. Cool completely on a wire rack.
(Note: I roasted the sweet potato rather than microwaved it)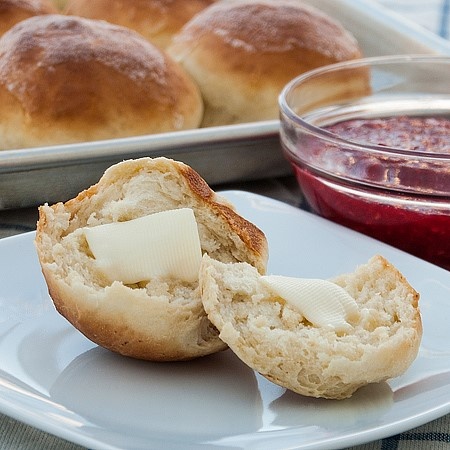 30 Minute Rolls
(Adapted from Realmomkitchen.com)
Ingredients
· 1 cup plus 2 Tbsp warm water
· ⅓ cup oil
· 2 Tbsp yeast
· ¼ cup sugar
· ½ tsp salt
· 1 egg
· 3½ cups flour*
Instructions
1. Preheat oven to 400 degrees.
2. In the bowl of a stand mixer, combine water, oil, yeast, and sugar. Allow mixture to rest for 15 minutes.
3. With a dough hook, mix in salt and egg and 2 of the cups flour until combined. Add remaining flour ½ cup at a time.
4. Shape dough into 12 balls and let rest for 10 minutes.
5. Place rolls in a greased 9x13 pan or baking sheet. Bake at 400 degrees for 10 minutes until tops are golden brown. Makes 1 dozen.
*Note: I used ½ white whole wheat flour and ½ all purpose flour.
Honey Soy Roasted Brussels' Sprouts
Preheat oven to 400 degree.
In a large bowl add Brussels sprouts, gluten free soy sauce, honey, olive oil, and pepper. Stir to coat all Brussels sprouts.
Spray a baking sheet with PAM/Olive Oil
Spread honey soy Brussels sprouts on baking sheet in a single layer.
Bake for 40-45 minutes.
Raspberry Mandarin Orange Salad with Walnuts
1/2 c.
walnut halves
1 (10 oz.) bag
mixed greens or baby spinach
2 (11 oz.) can
Mandarin orange segments drained
vinaigrette Light raspberry dressing
Place greens and mandarin oranges in a large bowl, toss gently. Add walnuts and toss again.
Place salad on individual serving plates, drizzle with raspberry vinaigrette dressing.

Tasty Chili

1.5 lb ground turkey or lean ground beef
8 oz crushed tomatoes
8 oz tomato sauce
2 tbsp ketchup
2 bay leaves
1 large onion diced
2 tbsp chili powder
1 tbsp garlic powder
1tsp Worcheshire sauce
1/4 tsp cinnamon, allspice
1/4 tsp crushed red pepper (optional)
2% sharp cheddar cheese

Spray skillet with nonstick cooking spray. Heat. Add onions and meat, stirring to brown and break apart meat. Drain.
Add all remaining ingredients (except cheese) and simmer over low heat for an hour or more. Top individual servings with cheese. (Dark kidney beans may be added to the recipe to increase protein.)
Mashed Cauliflower
1 medium head cauliflower
1/3 cup chicken broth or vegetable broth
2 tablespoons reduced fat sour cream
Salt & pepper
Place the cauliflower florets with ¼ cup water and chicken or vegetable broth in pot, cover and bring to a boil on low heat, or until completely tender.
Placed the cooked cauliflower in a food processor. Add chicken broth, sour cream, salt and pepper; puree until smooth. Serve Garnished with sliced chives.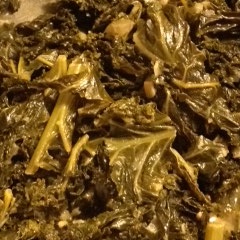 Collards
1 tsp olive oil
1/3 large sweet onion, finely chopped
1/3 green pepper, finely chopped
1 clove garlic, finely chopped
3 cups of vegetable or chicken stock
1 lb. of chopped collards
Salt & ground black pepper
In a large pot over medium heat, heat oil. Saute' the onions, green pepper, and garlic until slightly softened, about 2 minutes, then add the red pepper flakes, cook another minute. Add collard greens and cook another minute. Add the vegetable stock, cover and bring to a simmer. Cook until greens are tender, about 40 minutes. Season with salt and freshly ground black pepper.
Mama's Cornbread Dressing


Cook Time: 30 minutes
Yield: 10-12 servings
Ingredients:
1-1/2 cups diced celery
1 large onion chopped
6 TBS light butter, divided
1 cup water
whole wheat & white seasoned bread cubes (I use Pepperidge Farm Herb Stuffing with whole wheat and white bread)
3 cups cornbread
1 cup chicken broth
1 large diced onion
1 egg (I forgot the egg)
1/2 tsp. poultry seasoning (I made my own: marjoram, sage, thyme, rosemary and nutmeg)
Salt, pepper and sugar to taste

Directions:
Sauté celery and diced onion, 5 TBS of light butter, 'til soft, but not brown
Heat 1 cup water, add remaining 1 TBS light butter. Let melt.
Turn off heat.
To this, add celery, add onion and drippings.
Add in herb stuffing and mix lightly.
Add cornbread crumbs.
Pour broth over all.
Add egg and toss lightly.
Shake poultry seasonings and salt, pepper and sugar to taste.
Place in greased casserole or baking dish.
Bake at 325-350 degrees for about 30 minutes
Sweet and Savory Kale


Cook Time: 20 minutes
Yield: serves 4-6
Ingredients:
2 tablespoons olive oil
1 small onion, diced
2 cloves garlic, minced
1 tablespoon Dijon mustard
1 tablespoon white sugar
1 tablespoon cider vinegar
1 1/2 cups chicken broth or vegetable broth (I used reduced fat-free, reduced sodium chicken broth)
4 cups stemmed, torn and rinsed kale
1/4 cup dried cranberries (optional) (I often use reduced sugar dried cranberries)
salt and pepper to taste
1/4 cup sliced almonds (optional)
Directions:
Heat olive oil in a large pot over medium heat. Stir in the onion and garlic; cook and stir until the onion softens and turns translucent, about 5 minutes. Stir in the mustard, sugar, vinegar, and chicken stock, and bring to a boil over high heat. Stir in the kale, cover, and cook 5 minutes until wilted.
Stir in the dried cranberries, and continue boiling, uncovered, until the liquid has reduced by about half, and the cranberries have softened, about 15 minutes. Season to taste with salt and pepper. Sprinkle with sliced almonds before serving.
Notes:
Nutritional Information
Amount Per Serving Calories: 121 | Total Fat: 6.8g | Cholesterol: 0mg Powered by ESHA Nutrient Database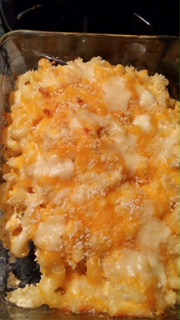 Greek Yogurt Macaroni & Cheese

Prep time 30 mins
Cook time 10 mins or until brown on top
Total time 40 mins
Serves: 6
Ingredients
½ lb. dry elbow macaroni (brown rice or whole wheat works great)
1 T. olive oil
1 T. All-Purpose Flour
½ c. Milk - Reduced fat, 2% (I substituted vegetable broth)
1 t. Salt
¼ t. Pepper
¾ c. Shredded Monterrey Jack Cheese
1 c. Plain Greek Yogurt
1 c. Shredded Cheddar Cheese ( I used a white extra sharp cheese)
2 T. panko breadcrumbs (optional)
Instructions
Cook the pasta according to package directions. Drain and set aside.
Preheat oven to 400 degrees.
In a medium saucepan, heat the olive oil over medium heat until it shimmers.
Add in the flour and stir briskly with a whisk to form a roux. Let the roux cook for about 1 minute while constantly stirring.
Slowly pour in the milk, stirring constantly with the whisk.
When the sauce is completely smooth, add in the salt, pepper, and monterrey jack cheese.
Stir until the cheese is melted and the mixture is very smooth.
Remove from heat and let the cheese cool slightly before adding in the greek yogurt and whisking together until very smooth.
With the pan still off the heat, add the cooked pasta and ½ c. of the cheddar cheese to the sauce. Stir with a spatula until all the pasta is coated in sauce and shredded cheese.
Pour mixture into a greased baking dish.
Top with remaining shredded cheddar and panko breadcrumbs.
Bake in preheated oven just until the cheese on top is completely melted, about 10 minutes.
Serve and enjoy!
Nutrition Information
Calories: 318 Fat: 14 Saturated fat: 7 Cholesterol: 37
Traditional Mac and cheese
Calories: 631 Fat: 38 Saturated fat 23 grams Cholesterol: 153
Honey Roasted Sweet Potatoes
By: Ellie Krieger

Prep: 15 mins.
Cook Time: 1 Hour
Yield: 6 servings (3/4 cup)
Ingredients:
2 pounds red-skinned sweet potatoes
2 tablespoons olive oil
2 tablespoons honey
1 teaspoon fresh lemon juice
1/2 teaspoon salt
Directions:
Preheat oven to 350 degrees F.
Peel and cut the sweet potatoes into 1-inch pieces and put in a 9 by 13 baking dish. In a small bowl whisk together olive oil, honey and lemon juice. Pour mixture over potatoes and toss to coat. Sprinkle with the salt, and bake, stirring occasionally, for about 1 hour, until potatoes are tender.
Per Serving
Calories : 167
Total fat : 4.5 grams
Saturated fat : 0.5 grams
Protein : 2 grams
Carbohydrates : 30 grams
Sparkling Cider Mocktail
Ingredients:
1 cup of fruit juice of choice
2 ounces fresh squeezed lime juice
Sparkling cider of your choice
Optional: cranberries or pomegranate seeds for garnish
Instructions:
Mix fruit juice and squeezed lime juice and sparkling cider then garnish if using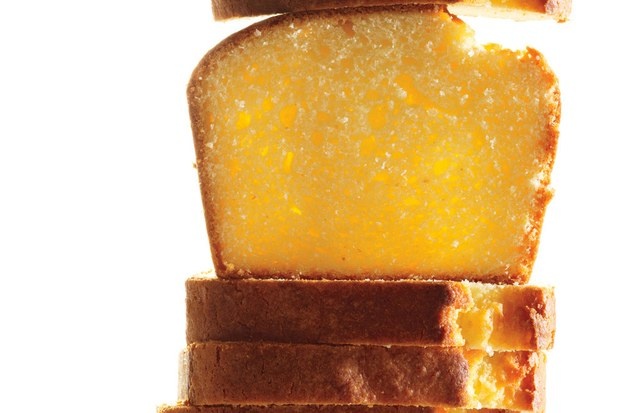 French Yogurt Cake
by: Bon Appétit


Category: Cakes

Cook Time: 50-55 minutes
Yield: 8 servings

Ingredients:
Nonstick vegetable oil spray
1 1/2 cups all-purpose flour, plus more for dusting
2 teaspoons baking powder
3/4 teaspoon kosher salt
1 cup sugar
1 tablespoon finely grated lemon zest
3/4 cup whole-milk Greek yogurt
1/2 cup vegetable oil
2 large eggs
1/2 teaspoon vanilla extract

Directions:
RECIPE PREPARATION

Preheat oven to 350°F. Coat a standard (8 1/2x4 1/4") loaf pan with nonstick vegetable oil spray. Dust with flour; tap out excess.
Whisk 1 1/2 cups flour, baking powder, and kosher salt in a medium bowl.
Using your fingers, rub sugar with lemon zest in a large bowl until sugar is moist. Add yogurt, oil, eggs, and vanilla extract; whisk to blend. Fold in dry ingredients just to blend.
Pour batter into prepared pan; smooth top. Bake until top of cake is golden brown and a tester inserted into center comes out clean, 50–55 minutes.
Let cake cool in pan on a wire rack for 15 minutes. Invert onto rack; let cool completely. DO AHEAD: Can be made 3 days ahead. Store airtight at room temperature.
Strawberry Santa Hats

by: snack girl

Category: DESSERT
Cook Time:
Yield: Makes 1 pound of strawberries (about 15

Ingredients:
1 pound strawberries, washed and patted dry with paper towels
¼ cup white chocolate or white candy melts
¼ unsweetened coconut
8 mini marshmallows, sliced in half

Directions:
Line a baking sheet with parchment paper. Slice the hull off the strawberry to make a flat base. Heat the white chocolate in the microwave at half power for 20 seconds until melted in a small bowl. Place coconut in a small bowl and dip the flat end of the strawberry, first in the chocolate, then the coconut. Place on the baking sheet. Repeat.
Dip the half of marshmallow in the chocolate and place on the tip of the strawberry. Place in fridge for 10 minutes and enjoy. Can be made 1 day ahead.
Each strawberry is 48 calories, 3.2 g fat, 2.5 g saturated fat, 5.0 g carbohydrates, 3.6 g sugar, 0.6 g protein, 1.2 g fiber, 4 mg sodium, 2 SmartPts

Notes:
Big hit. I. Used white chocolate
Our Recipes

Meatless Recipes

Avocado Breakfast Pizza

Bean Burrito Bowl

Chickpea Burger
Coconut Curry

Energy Bars

Overnight Oats
Pecan Meatballs
Quesadilla

Rice & Bean Tostados/Tacos

Veggie Skillet
Zucchini Crisps



December Tasting

Egg Nog

Tarts

30 Minute Rolls

Honey Roasted Sweet Potatoes

Raspberry Mandarin Orange Salad

Tasty Chili

Mashed Cauliflower

Collards

Mama's Cornbread Dressing

Sweet & Savory Kale


Greek Yogurt Macaroni & Cheese

Sparkling Cider Mocktail


French Yogurt Cake
Santa Hats