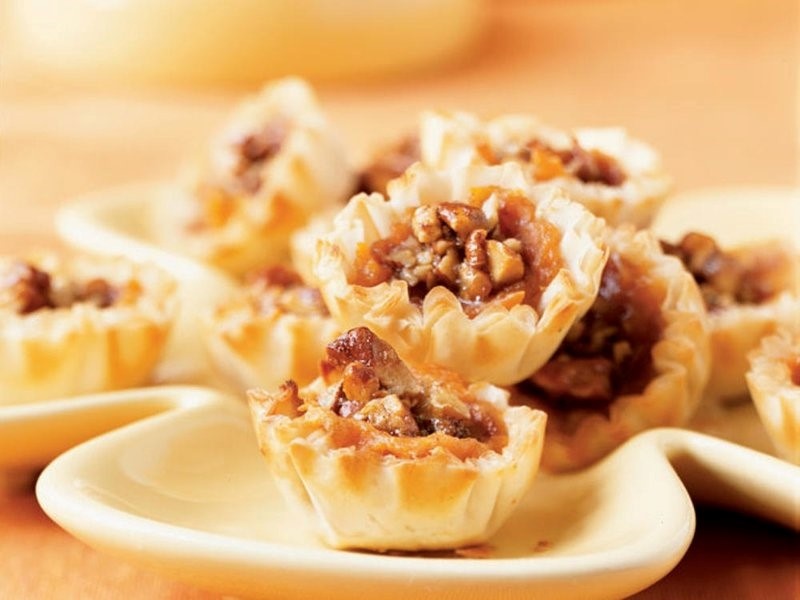 15 servings (serving size: 2 tarts)
ELIZABETH TALIAFERRO
November 2005
RECIPE BY
COOKING LIGHT
Pierce each sweet potato a few times with a fork, place in a pie plate with two tablespoons water, cover loosely with wax paper, and microwave at high five minutes or until tender.
Ingredients
1 cup mashed cooked sweet potato
3 tablespoons granulated sugar
1/4 teaspoon ground cinnamon
1/8 teaspoon salt
1/3 cup chopped toasted pecans
1/4 cup firmly packed brown sugar
1 tablespoon dark corn syrup
1/2 teaspoon vanilla extract
1 egg white
2 (2.1-ounce) packages mini phyllo shells (such as Athens)
Nutritional Information
· Calories 89
· Calories from fat 39%
· Fat 3.9g
· Sat fat 0.2g
· Mono fat 2.2g
· Poly fat 0.9g
· Protein 0.6g
· Carbohydrate 13.1g
· Fiber 0.5g
· Cholesterol 0.0mg
· Iron 0.6mg
· Sodium 55mg
· Calcium 9mg
How to Make It
Step 1
Preheat oven to 350°.
Step 2
Combine sweet potato, granulated sugar, cinnamon, and salt, stirring well.
Step 3
Combine pecans, brown sugar, syrup, vanilla, and egg white, stirring well.
Step 4
Spoon about 1 teaspoon sweet potato mixture into each phyllo shell, spreading to edges. Spoon about 1/2 teaspoon pecan mixture over sweet potato mixture. Place filled shells on an ungreased baking sheet. Bake at 350° for 20 minutes. Cool completely on a wire rack.
(Note: I roasted the sweet potato rather than microwaved it)