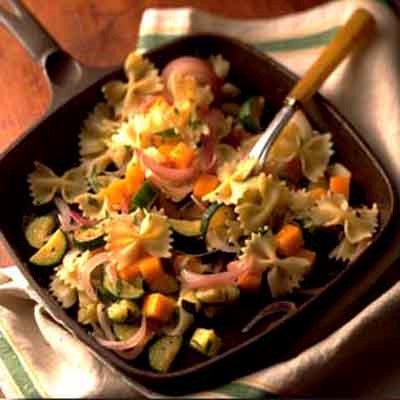 Veggie Skillet

(from land O Lakes®)
20 MIN - PREP TIME; 30 MIN - TOTAL TIME; 5 SERVINGS
2 cups uncooked dried farfalle (bow tie) pasta
2 tablespoons Land O Lakes® Butter
1 teaspoon finely chopped fresh garlic
2 medium (1 cup) zucchini, cut into 1/2-inch pieces
1 medium (1 cup) red onion, cut into thin wedges
1 tablespoon chopped fresh basil leaves*
8 ounces (2 cups) Cheddar cheese, cubed 1/2-inch)
Salt, if desired
Pepper, if desired
*Substitute 1 teaspoon dried basil leaves
1. Cook pasta according to package directions. Drain.
2. Melt butter in 10-inch skillet until sizzling; stir in garlic. Stir in all remaining ingredients except cheese. Cook over medium heat, stirring occasionally, 4-6 minutes or until vegetables are crisply tender.
3. Stir in pasta. Continue cooking, stirring occasionally, 2-3 minutes or until heated through. Stir in cheese. Salt and pepper to taste.
Angela's suggestions
Try using a smaller amount of olive oil, rather than butter. Also, consider using a very sharp cheddar and reducing the overall amount of cheese.